---

Playfight Weekend Workshop
april 28 @ 12:00 pm

-

april 29 @ 5:00 pm
Evenement Navigatie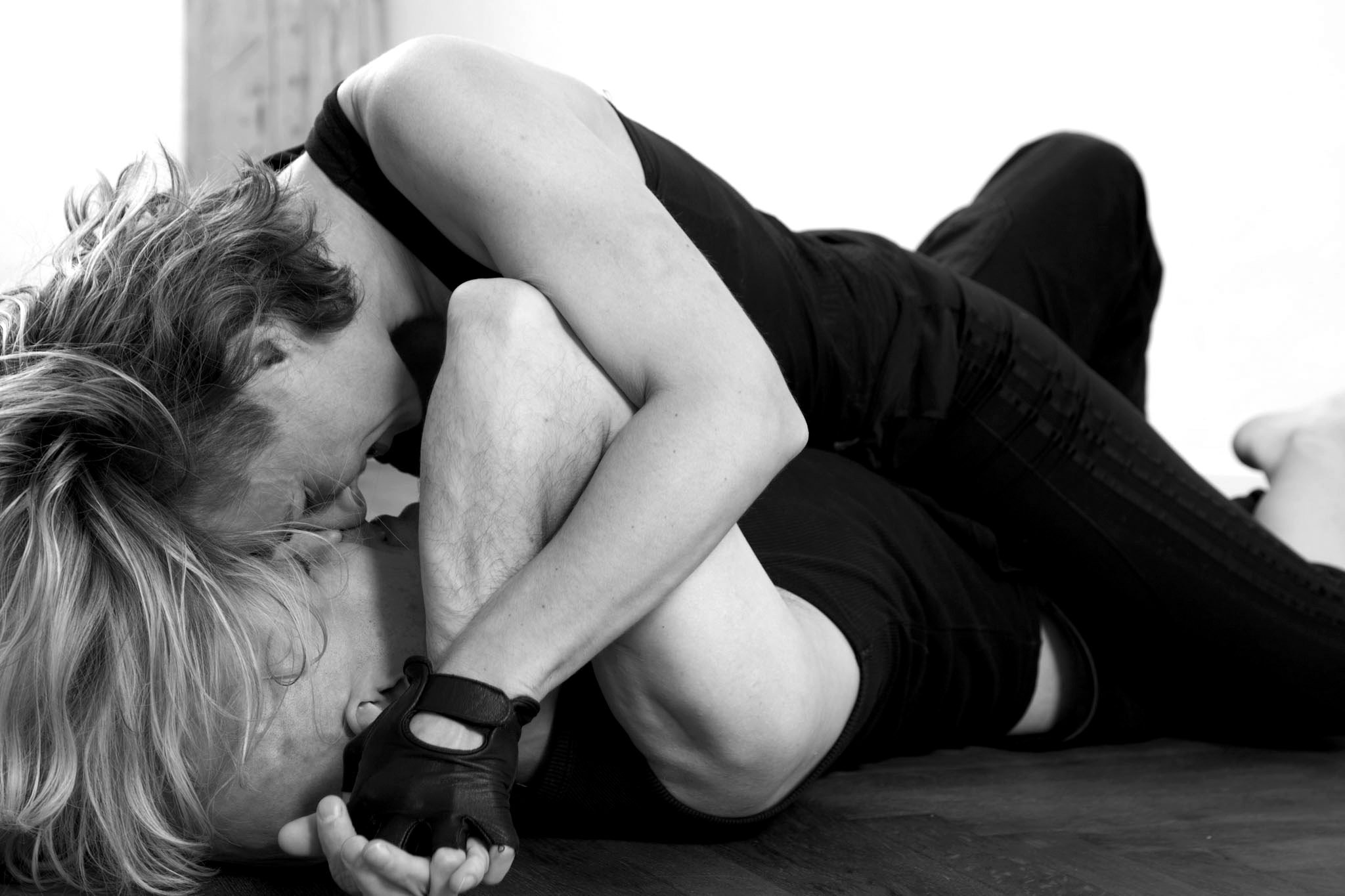 Playfighting is energetic, dynamic, honest and liberating. Playfighting retains these qualities without the destructive aspects of real fighting – and adds fun and joy. Imagine puppies fighting playfully and you have a good idea of what playfighting's all about. It's not about winning or losing and going against each other, it's about frolicking around and having fun with each other. It involves laughing a lot and can be wonderfully wild and deliciously sexy.
Playfighting allows us to feel our strength and our partner's strength, to feel our physicality in a uniquely exhilarating way. Playfights open up a safe space for us to experience issues, situations and feelings that we might otherwise not look at. In doing so we discover delightful new ways to relate to each other.
Our playfighting is not a simplified form of wrestling, but a unique concept with its own ideas. Since it has totally different goals than martial arts, we have developed exercises and games that take you step-by-step into playful fighting, taking a closer look at individual physical and emotional aspects.
We create a cosy and friendly atmosphere and give extensive safety guidelines to inspire you to fight playfully and enjoy this exhilarating new way of relating to each other.
WHO IS THIS WORKSHOP FOR?
For everyone who is interested in fun and powerful interactions. For newcomers and experienced playfighters, regardless of age and gender (our oldest participant was 70+).
Open to individuals, couples and poly groups of all genders and sexual orientations.
Previous experience with martial arts or an above average level of fitness is definitely not required, just make sure to meet the basic health requirements for engaging in sports and physical activity.
In case you have any questions please get in touch with us and we'll be happy to chat with you about it.
WHAT TO WEAR AND WHAT TO BRING?
We recommend bringing a water bottle, anti-slip socks and soft knee-pads (or at least sturdy clothing that covers your knees and elbows).
Probably a spare T-Shirt, we move a lot!
PRESENTERS
Frank is a kinky German self-defense teacher who has been practicing various martial arts since 1984. With Playfighting and Rough Body Play, he has developed his own and unique approach to bring together his passion for martial arts and playful fighting.
Austrian Sheila, Franks partner in crime, has a diverse bodywork background – she practices Shiatsu, breath work, dance, martial arts and is a contact communication trainer. She co-organizes the Xplore Vienna Festival and is a restless adventurer with body and soul.
The two founders of the Bodyplay Academy are influential pioneers in the field of Playfighting and are constantly developing their concepts. Since 2005 they have presented their entertaining and educational hands-on workshops all over Europe and in Australia.
REVIEWS FROM PREVIOUS PARTICIPANTS
"This was an extraordinary workshop which was full of fun and laughter. It was very educational and the presenters were exceptional in every way.
It really highlighted the difference between martial arts and the fun aspect of play fighting, which is a totally different thing altogether.
I highly recommend any course run by Frank and Sheila who I found to be very friendly and made the experience very accessible to all of us."
"The instructors, Frank and Sheila, were fantastic. They brought together their decades of martial arts experience, playful energy and insight into a fun and educational class. Safety was a very important aspect of the workshop and they showed what not to do (and why) as often as what to do. They watched everyone's technique carefully, and allowed consenting participants to explore rougher playfighting (safely). The class itself progressed very smoothly and I was able to step outside of my comfort zone and engage with the other participants."
"I loved its amazing playfulness, physical exertion, sensual undertones and glorious humour."
"No-one is really offering this work in such an accessible way. Playfighting can be a really juicy way to feel one's own, and a beloved's power, and also to explore what energy arises between you. Exquisite and potentially VERY sexy."
"My boundaries have stretched a lot further than I was expecting – a bit more of the overly nice guy has been eroded 🙂 Great to feel so safe being a kid again!"
"It was really, really good fun. It was more participatory than I had imagined and it was more tender – and I found it surprisingly satisfying. I loved the potential for playfulness and being silly!"
PRACTICAL INFORMATION
When: April 28 & 29
What time: What time: 11.00 – 19.00 (Saturday), 11.00 – 17.00 (Sunday)
Where: Boost, Amsterdam
How much: early bird tickets (until March 28): 100 euro, late bird tickets (after March 28): 125 euro
Buy your ticket here: https://www.ticketkantoor.nl/shop/PWW
If money is an issue, please get in touch and we can see what the possibilities are for attending the workshop.
Please note, tickets are not refundable. If you bought a ticket and for some reason can't make it to the workshop, we can see if we can help with bringing you in touch with people on our waiting list who are looking for a tickets. But we can't give any guarantees.
The Playfight Weekend Workshop is organized by Marije Janssen, initiator of a wide range of events around sexuality, amongst others: Get a Room!, Ongelooflijk Genieten Symposium, Hands On Festival and much more.